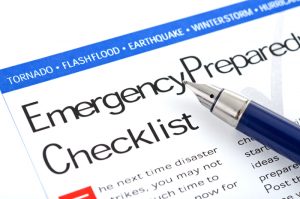 Our hearts go out to all the people in the Texas Gulf Coast devastated by Hurricane Harvey and the unprecedented rainfall that followed. Many of us are no strangers to flooding, but almost nobody has experienced the amounts that fell on the Houston area in late August – upwards of 50 inches of rain in a five-day period.
Coincidentally, the U.S. Department of Homeland Security has declared September as "National Preparedness Month." Goodness knows we Californians have more than our share of natural disasters to prepare for, including earthquakes, floods, tsunamis, fires, mudslides, you name it! And let's not forget the ever present threat of potential terrorist attacks targeting our freewheeling society and citizens. So it's a good time to review some of the most important household precautions you can take in case disaster strikes.
From a plumbing standpoint, one of the most important areas of disaster preparation is to make sure your home's water and gas piping and related equipment are properly protected against earthquakes. The California Health and Safety Code requires that gas mains in all homes need to be protected by automatic gas shutoff valves. Dutton Plumbing can install these devices where needed. If you already have them, be sure to sign up for one of our Family Plan service agreements to make sure they stay in good working order.
The California Health & Safety Code also requires that water heaters be braced, anchored or strapped to resist falling or horizontal displacement due to earthquake forces. If you sell your property you are required to certify in writing to the purchaser that water heater bracing requirements have been met. Again, call us if you're not up to code.
Something else Dutton Plumbing can do to safeguard your home is to put labeled tags on key water and gas shutoffs in your home so you can quickly shut them off in the event of a disaster. Experience has shown that when an earthquake strikes subsequent gas line fires cause almost as much damage as the shaking.
Plumbing aside, here are some other simple tips that every home should follow to prepare for potential disasters:
Have a first aid kit handy.
Store flashlights, extra batteries and a portable radio in a spot where they can be easily retrieved.
Store important documents in a fireproof box, up high to avoid water damage. These should include insurance policies, vehicle titles, property deeds, wills, bank and credit card numbers. Keep a duplicate list of the policy and transaction numbers in a location outside your home, such as at work, in a bank safe deposit box or at the home of a friend or relative. Printed copies are essential because a power outage may prevent you from accessing a computer or even from charging your phone.
Keep an inventory of personal valuables that can be used to identify what has been lost or damaged. Photographs and/or a video of each room in your house can prove helpful.
For a more detailed list of things you can do during National Preparedness Month, visit this Department of Homeland Security website.