Simi Valley Sink Repair & Installation
Reliable Services for Any Sink in Your LA & Ventura County Home
Many homeowners rely on Dutton Plumbing regularly to ensure their sinks are the very best in the plumbing industry and the rest of their plumbing fixtures operate smoothly. We offer the very best sink plumbing services in Simi Valley and to the entire community to ensure peace of mind is available to all.
Everything from classic to contemporary styles, our trained plumbing technicians can handle the repair job when you give us a call. We work with each and every client one-on-one to ensure your satisfaction is achieved. If an old sink is not functioning as it should, consider a sink repair to bring new life to the fixture.
Need sink repair or installation in Simi Valley or the surrounding areas? Call Dutton Plumbing at (805) 849-0965 today!
Kitchen Sink Repair
The sink in your kitchen is often used for cooking and cleaning, which makes it quite important to the entire household. At Dutton Plumbing, we understand exactly how important such a fixture can be. This is why we offer kitchen sink repair—to ensure your whole system continues operating as smoothly and efficiently as it did before a leak, clog, or whatever other problem you are experiencing. We want to ensure you can continue using the same trusted sink as last week.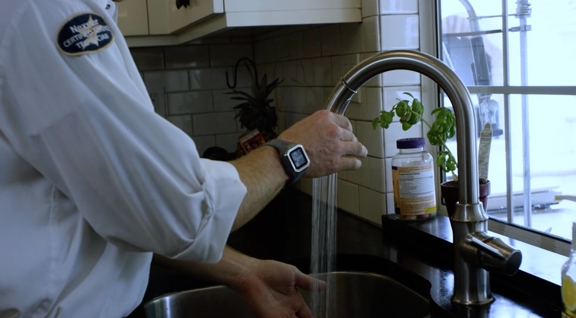 Bathroom Sink Repair
In the bathroom, the sink is generally used for hygiene purposes, which is vital to a healthy comfortable lifestyle these days. Without a functioning sink, your comfort level and health will probably decline drastically. To solve such an issue, Dutton Plumbing can send in a trusted plumbing technician to perform sink repair services in a timely manner. We want our customers happy and trustful with the work we performed.
How Much Does Sink Repair Cost?
A variety of factors can cause your sink to malfunction. Perhaps your worn pipes have caused an extensive leak, or a serious clog has manifested itself in your drain. Whatever the reason, you deserve quick, effective, and affordable repair services.
At Dutton Plumbing, we never nickel and dime our customers. Instead, we choose to remain as transparent as possible when it comes to sink repair costs. Our technicians will provide each client with a customized quote for our services. This quote will include the total cost for drain repairs, including the scope of the job and size of the home.
We set our prices competitively, and work to stay affordable for families and business owners on a budget. Everyone deserves professional repairs. We stand by that. If you have any questions regarding the cost of work completed on your sink, do not hesitate to ask our technicians.
How Long Does Sink Repair Take?
The time frame required to repair a sink successfully depends on both the nature of the issue and the size and location of the sink. As professional plumbing technicians, we will examine your entire plumbing system during any repair job. If we find any related issues in the plumbing, we may have to conduct a full replacement. A job like this will take longer to complete.
In any event, our experienced Ventura & Los Angeles County plumbers will keep you informed throughout the entire process. We pride ourselves on keeping our customers in the loop for all our work. We have to examine the system in person before we can determine an exact time frame for repairs.
With that in mind, please don't hesitate to call Dutton Plumbing for repair work. The sooner we arrive, the sooner we can fix your sink. Our technicians would be happy to answer any further questions about the sink repair process!
Does Our Repair Work Include Any Warranties Or Guarantees?
At Dutton Plumbing, we stand by the work we complete. If our customers are not completely satisfied with our repair work, we promise to go back and make it right. Our team has earned a reputation for being the fastest, friendliest, and most professional plumbing technicians around Ventura and Los Angeles County.
With this in mind, we always put our customers first. Over the years, we have become the most trusted source for all plumbing needs, including repairs, installation, and maintenance. Our work speaks for itself. We complete tough plumbing jobs correctly the first time, and we don't mess around when it comes to repair work. Everything we accomplish is backed by our experience and abilities. That's why we can guarantee that you'll be satisfied with our work!
When you need sink plumbing services in Simi Valley, including repairs and installation, call us at (805) 849-0965.
Your Mom Deserves the Best
We're There in 60 Minutes or Less

We'll be there to solve your problem in 60 minutes or less for emergency services. 5-star service that's faster than our competition.

The Best Service

Our technicians are drug tested and screened, wear booties to protect your home, are knowledgeable, dependable, and come ready to work. Customer service is our number one priority.

The Best Deal in Town

Charging by the job and not by the hour! We take pride in providing professional and affordable plumbing services to our local families and businesses.

Satisfaction Guaranteed

We're committed to delivering complete customer satisfaction with every job. If you aren't happy with any of our services or our products, we'll make things right.