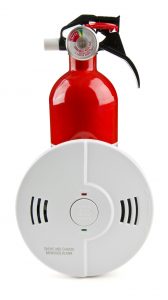 October 8-14 has been designated as this year's annual Fire Prevention Week, a campaign of the National Fire Protection Association (NFPA). This year's theme is "Every Second Counts: Plan 2 Ways Out!"
In a fire, seconds really do count. Seconds can mean the difference between escaping safely from a fire and having your life end in tragedy. This year's message reinforces why everyone needs to have an escape plan. Here are some tips:
Each room should have at least two exits and a path to the outside, even if that means opening or even breaking a window. If anyone in your home sleeps in a windowless room, try to reconfigure sleeping arrangements if you can.
Practice a home fire drill at least once or twice a year, especially with young children. Conduct one at night and one during the day with everyone in your home, and practice using different ways out.
Teach children how to escape on their own in case you can't help them.
Make sure the number of your home is clearly marked and easy for the fire department to find.
Close doors behind you as you leave – this may slow the spread of smoke, heat, and fire.
Once you get outside, stay outside. Never go back inside a burning building to rescue pets or valuables.
As almost everyone already knows, smoke alarms are one of the best investments you can make to protect you and loved ones from a home fire. According to NFPA, 60% of home fire deaths occur in homes with either no smoke alarm or one that is not functioning. Take these steps to avoid falling victim.
Install new batteries regularly. For sure do it when an alarm begins to chirp, but even if the low-battery signal is not working, replace them on an annual basis. To help you remember, get into the habit of doing it on a special day each year, such as a holiday, anniversary, birthday, etc.
Test smoke alarms periodically to make sure they still work, and replace them at least every 10 years. Write down the date of installation on each device.
Avoid the cheapest products on the market. Make sure any smoke alarm you install bears a UL label certifying its performance.
Install smoke alarms at every level of your home and outside all sleeping areas.
If anyone in your home is deaf or hard of hearing, purchase special alarms that have strobe lights and bed shakers.
Even better than smoke alarms are automatic sprinkler systems. Most codes mandate them for new apartments and condos, but many older buildings lack them and relatively few single-family homes are equipped with fire sprinklers. They are prohibitively expensive to retrofit, but if you are thinking about building a new home, ask your builder about installing them. It may add several thousand dollars to the home price, but it's not much when factored into a monthly mortgage.
For more information about Fire Prevention Week and fire prevention in general, visit the NFPA website.