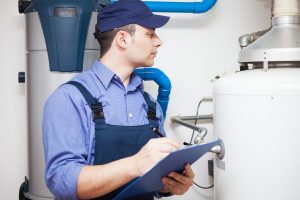 Fall is the perfect time to perform plumbing maintenance. It's cool enough to get outside and examine any outdoor pipes, but the bitter cold of winter has yet to hit. In fact, it's crucial to investigate your pipes and perform proper maintenance before freezing occurs. Of course, your plumbing system isn't the only thing to care for this fall. Your own body requires careful maintenance. It's important not to take your own systems for granted.
Fall Tips
With the weather beginning to change, now is the time to take precautions.
Improve Your Immune System – The common cold is contagious, and widespread this time of year. Getting enough sleep is crucial to improving the function of your immune system.
Eat Seasonal Foods – As human beings, we tend to gain weight around this time of the year. To avoid packing on a few extra pounds, eat seasonal foods, such as apples, pumpkins, and healthy greens.
Maintain Exercise Routines – A proper exercise routine will always crumble when the weather takes a turn for the worse. It's hard to go for a job when it's cold and damp outdoors. A regular workout, however, clears up seasonal blues and improves health.
Take Your Time – That's right: grab an enjoyable book, find a television series, and relax. Take a little time for yourself.
Fall Plumbing Tips
The chilly temperatures of fall service as a reminder of incoming winter weather. Snowstorms, hail, and freezing temperatures are just around the corner. Your plumbing system will most likely experience some trouble and downtime, but only if you ignore everyday maintenance needs.
Ensure your outdoor faucets are not dripping or leaking.
Disconnect outside water hoses.
Cover faucets using insulation kits.
Insulate pipes.
Seal leaks around doors or windows.
Contact Us
With fall closing in quickly, now is the time to contact Dutton Plumbing for home maintenance and repairs. Give us a call today, and we'll put you on the schedule for prompt service! Keep yourself and your plumbing system healthy as you head into winter.