Be Prepared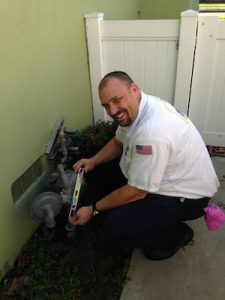 That's not just the Boy Scouts motto. It's a very important thing for all of us. The best time to get ready for an emergency is, of course, before one happens. Gas leaks can happen for a variety of reasons, including:
Problems with your appliances – A lot of appliances, such as dryers, stoves, water heaters and others, run on propane or natural gas. When the seals connecting these items to a gas line age, they can also start to corrode, leading to a gas leak.
Problems with your pipes – The gas that comes into your home travels through a maze of pipes. Over time, portions of a gas line can break off due to wear.
Improper ventilation – Carbon monoxide can accumulate due to poor ventilation or a malfunctioning exhaust fan. This colorless, odorless substance can be deadly if too much is inhaled.
It's vitally important that you if ever have to use your emergency gas meter shutoff wrench you do so and then get out of your house as soon as you can. Once you do so, go to a neighbor's house and call the gas company or the fire department.
If you are interested in taking advantage of a complimentary emergency gas meter shutoff wrench installation, sign up for our Family Service Plan. It includes several different types of inspection services and will give you peace of mind knowing that your plumbing components and fixtures are working in top shape. To learn more or to sign up, contact us online or call us at 877-490-3343.