"Dutton Plumbing: Best Plumbing Company"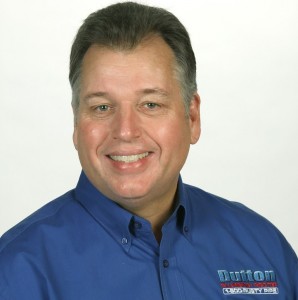 Hi! I'm Eric Dutton, the owner of Dutton Plumbing. And from years of personal experience on the job I know that who you hire is the most important decision a business owner makes. When I set out to start Dutton Plumbing I knew I wanted my guys to be the type of plumbers I would send to my mother's house. Guys who were experts in their craft, put honesty and integrity ahead of the sale, and went the extra mile to make sure that the job was done right.
I'm proud of the people I hire and they never cease to amaze me with their professionalism and the care they demonstrate for our customers.  As plumbers, we never know what kind of situation we are going to walk into. In addition to hazards on the job, we have to work with all sorts of people and different personalities. But our guys are trained to make sure the customer is satisfied and that the problem is solved. So when I got this letter from a 7 months pregnant customer thanking our tech for coming to her aid and defending her from her out of control landlord I wasn't surprised… just proud. Because that is the type of guys we hire…heroes…you would send to your mother's house.
For other great testimonials, including video testimonials, check out our home site at www.duttonplumbing.com.
Customer Feedback – Natasha
Sent: Thursday, August 29, 2013 4:55 PM
To: Dutton Plumbing Service Department
Subject: Attn: Manager, feedback from customer
Dear Dutton Plumbing,
I want to express my sincerest gratitude to you.  I had called in yesterday because I had one toilet in my townhouse that had leaked over the night.  Yesterday morning I woke up to about an inch of water in my master bedroom restroom.  I also had to call a water damage company to take care of the water damage as water seeped onto the carpet, underneath the vanity and into a closet.
You sent technician Jay N. bright and early today.  He was extremely professional and courteous and quick to evaluate the situation (the restroom in the master bedroom needed a mechanism inside the tower to be replaced as the arm that holds the black balloon broke, and a second restroom upstairs also needed to have the mechanism replaced as it was currently leaking water into the toilet and was also very old).  Unfortunately everything did not go over so smoothly as my landlord, with whom Jay spoke with over the phone was not so cooperative.  My landlord showed up in person and was extremely rude and upset.  (As I came to find out yesterday, he has to pay for all the water damage repairs which affected the restroom and the ceiling on the first floor himself because he has no insurance, on top of other electrical issues in the house that he has yet to take care of).
Mr. N. was very nice and apologized to me for having to put up with this situation especially as I am 7 months pregnant.  My landlord was quick to blame me for the leakage saying that when he uses the toilet he waits until the toilet refills to make sure there is no leak.  Mr. N. took him upstairs to show him the problem and explained to him that the problem was not my fault but that the mechanism inside the tower is so old that it just broke off some time over the night and these things happen, you just never know when.  While Mr. N. was upstairs trying to explain the situation to my landlord my husband called and wanted to speak with my landlord.  My landlord refused to talk to my husband at which point my husband told me to tell my landlord to get out of the house.  At this point I was really upset and in tears and I asked my landlord to leave.  He lost all control and started yelling at me and came towards me.  Mr. N. stepped in to protect me, a pregnant woman, and told my landlord to calm down.  As my landlord was on his way out Mr. N. followed closely behind to make sure he didn't lose control.  My landlord yelled at me to get out of the house and Mr. N. again stepped in and told him to calm down and that his tone and attitude wasn't necessary.
Eventually my landlord ended up returning to pay Mr. N. for his time.  My landlord insisted that he had his own plumber that can do the work for a cheaper rate (he later told me that this guy is his "handyman".  Mr. N. asked whether this plumber will be able to measure the water pressure because that could be what caused the problem.  Mr. N. was patient and had to talk with my landlord for a while to convince him to make sure everything was ok.  Unfortunately my landlord did not authorize Mr. N. to complete the repair, leaving me with a broken toilet for the second day, and a second toilet that needs repair.
I am embarrassed for having put Mr. N. through this awkward situation but I am so thankful for what he did and how he handled the situation.  I made sure to ask Mr. N. for his business cards so that I can recommend him to everyone I know.  Thank you so much for your professionalism and please send my regards and gratitude to Mr. N..
Best,
Natasha