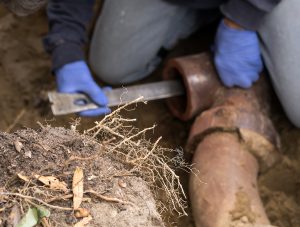 Trenchless sewer repair is not just a fad. This is not a plumbing technique that will disappear after a year or two of making headlines. In fact, trenchless sewer repair is a proven method that makes plumbing repairs easier and more cost-effective. As a homeowner, you're faced with the entire bill. The city and your homeowner's insurance typically won't cover sewer repair. Traditional methods required expensive digging, which could ruin your landscape. Today, professionals can tackle a repair job without devastating a yard. But how do you choose such a professional?
Find a Leader
When choosing a trenchless sewer repair, find someone who is well-versed in the technology. If you can locate a technician with a proven history of completed jobs, then you'll find your specialist.
There are numerous repair methods, including pipe bursting, slip lining, and cured in place piping. Your chosen technician should have the knowledge and expertise to make a choice between each method. Not all sewer pipes are built the same, and not all issues are the same. You'll need to know you're receiving the proper level of care. To accomplish this task, thorough research and recommendations from friends or family will help immensely.
Check for Proper Licensing and Certifications
Like with any service provider, proper licensing and certification should be a factor in determining who you hire. The same goes for hiring a sewer repair professional. It's vital that you check for licenses and certification. Insurance is also a promising idea, too.
Licenses to check for include:
C-36 License
C-42 License
A-License
B-License
These licenses cover general plumbing to specialized engineering services. If your chosen trenchless sewer repair professional has all of the above, then you've found someone worth working with!
Contact Us
To schedule trenchless sewer repair, contact Dutton Plumbing today. In fact, we'll send a technician directly to your doorstep promptly, ready to work!