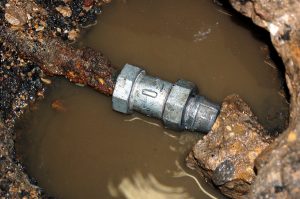 Problems with your sewer system can be of major concern and can place time constraints on finding help. At Dutton Plumbing, we understand the issues faced by homeowners seeking sewer line repair and take pride in providing professional service that avoids complication of an already inconvenient matter. Here are four areas we take into consideration:
1. Safety
For personal safety, you should know that the individual coming to your house has undergone background checks and drug tests. In addition, you want to be able to verify the professionalism of the worker so that the job is done right and problems are not compounded by incompetence. All company employees should have verified credentials and specific training.
2. Efficiency
Repairing your sewer system does not necessarily mean digging up your whole yard. Your plumber should be equipped with a camera that can be sent into the pipes to locate the problem before breaking ground. Only the blockage area is disturbed, and the repair can be completed in a timely manner.
3. Availability
Emergency sewer line repair will not wait for business hours. Your plumbing company should be available any time of the day or night, as well as on weekends and holidays. You should be advised of your options before work is begun so that you can make the choice that is right for you. In addition, the company should always be willing to answer your questions and provide advice and recommendations for solutions.
4. Prevention and Maintenance
Regular maintenance could save you time and expense in emergency repairs. A full service plumber can keep your sewer lines clean and identify potential trouble before it becomes a major issue at an inopportune moment.
Professional Service
At Dutton Plumbing, we provide carefully-screened professionals who will do the job right in a timely manner. We are available to partner with you in performing maintenance to keep your system running smoothly. Contact us for preventive services or sewer line repair. We are on call 24/7 for your convenience.