Take Care of Your Water Heater
For our weekly deal, we are focusing on the importance of regular water heater maintenance. Below our Plumbers weigh in with important reasons why you should take advantage of this limited time offer.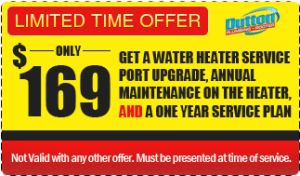 Problems That Can Shorten the Life of a Water Heater
Water heaters are necessary to keep hot water flowing in a home. Water heaters can be expensive to replace. For a limited time, Dutton Plumbing is offering a service package that can help extend the life of a water heater no matter what brand. We will upgrade your water heater service port, perform an annual maintenance and provide a one-year service plan for only $169. Here is more information on problems that can shorten the life of a water heater.
Sediment buildup
Sediment buildup can impact the performance and life of a water heater. Switching out a restricted port to a full ¾" port is one step that can be taken to remove sediment. Sediment largely accumulates at the bottom of a water heater tank. This inhibits the flame from properly heating the water, which can lead to a disproportionate amount of hot water at the bottom of the tank. Over time, this may weaken the metal at the bottom of the tank which can shorten the life of the unit.
Anode failure
The anode is responsible for keeping the water heater operating as long as possible. It should be replaced every 4-6 years. If the anode is replaced when needed, this can go a long way to lengthening the life of the unit. An experienced Simi Valley plumber can replace your water heater's anode.
These are 2 issues that can shorten the life of a water heater. For more information on water heater maintenance, water heater repair, plumbing services, or to take advantage of our limited time water heater service offering, call Dutton Plumbing at (844) 811-5449.
Source: Regular water heater service port maintenance, including removing the build-up of sediment and replacing the anode, can help to prolong the life of the unit.