$189 for Complete Water Heater Refurbishing
For a limited time, we are offering a complete water heater overhaul for only $189! This service normally costs $370, saving you $181!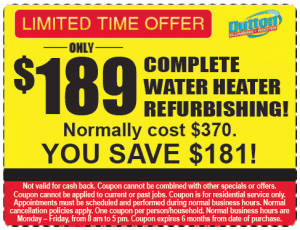 Replacing your water heater can cost up to thousands of dollars if it's not properly maintained. Did you know that the Department of Energy recommends you begin researching new water heaters if yours is more than seven years old? This is due to common water heater failure within that time period. You can prolong the life of your water heater by ensuring its proper maintenance and replacing its essential components like the anode rod (it gets "used up" by the elements in the water – when it's gone, those elements destroy the tank itself). It's recommended that you flush your water heater every year to remove damaging sediment and loose debris. If your water heater is more than 7 years old, or if you have not flushed it in over a year, or if you have noticed your water not staying hot as long as it once did, this is your chance to prolong your water heater's life, save money on energy bills and keep your water heater running hot well into the future.

We will do the following:
Drain and flush the tank for better efficiency while reducing sediment build up and clearing lose debris that can destroy your water heater
Clean, and inspect the gas burner assembly to ensure efficient fuel consumption and safety
Replace existing sacrificial anode rod with a new one, to prolong the life of your tank ($40 credit if not accessible or needed)
Replace existing drain valve with new solid brass ball valve for ease of future maintenance ($20 credit if not accessible or needed)
Test pressure relief valve for safe and proper operation
Inspect the water heater's vent pipe, drain pan, gas valve, gas line and gas shut-off for proper functioning
Check for water leaks, gas leaks and excessive levels of dangerous carbon monoxide
Dutton Plumbing will credit $189 toward the purchase and installation of a new water heater from Dutton if your water heater fails within 1 year of your service.
The Fine Print
Not valid for cash back
Coupon cannot be combined with other specials or offers
Coupon cannot be applied to current or past jobs
Coupon is for residential service only
Appointments must be scheduled and performed during normal business hours
Normal cancellation policies apply
One coupon per person/household
Normal business hours are Monday – Friday, from 8 am to 5 pm
Coupon expires 6 months from date of purchase