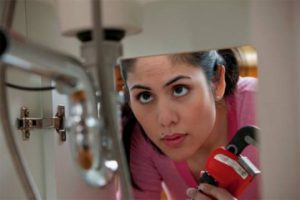 Ever had your plumbing break in the middle of the night? During a dinner party? Or when you aren't even home? It seems as though plumbing will break only in the worst possible times and calling a plumber can be expensive. Living in a home long enough you are bound to have something leak, drip or get clogged. For smaller issues like that it is important to be able to understand how to fix them and what tools to use.
No matter what, every home should have a plunger. It doesn't matter how handy you are, a plunger will be your best friend when it comes to clogged toilets and sinks. Toilets and sinks get clogged very easily so it is important to have a plunger and to know how to use it. No plumber is necessary, simply stick the rubber end into the bottom of the toilet and push up and down. Voilà, you did it, without the help of an expensive assistant.
When dealing with plumbing you're going to run into issues with pipes. What works better on a pipe than a wrench? Lets say your ring fell down the sink, what are you going to do? Wrenches are used to tighten and loosen pipes so you can easily retrieve fallen items. You need one wrench for turning and a second for gripping.
Getting these couple of tools to start out with and eventually learning and adding more to the collection can be very beneficial. It is easier to fix simple problems yourself then hire someone to do it for you.