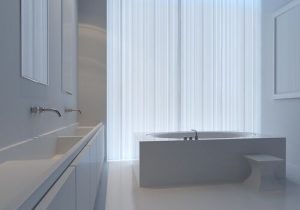 Bathrooms are typically the smallest rooms in the house.
Despite this, renovating one is not a small task. In some cases, you'll need to entirely remove every fixture within, smash plastic and concrete, and start from scratch. It's a significant undertaking; one that many homeowners are not prepared for. They love the idea of a new bathroom but are unclear of the work required. We'd like to shed some light on what to consider before you remodel your bathroom.
Watch Your Spending
When renovating, it's easy to go over budget. We often visit the home improvement store and immediately notice ten things we want in the new bathroom. If you're not careful, you may come back with eight of those, despite only need one or two. This is merely an example, of course.
Before you begin your renovation project, lay out a clear budget plan. Stick to the budget at every turn. A restoration job is real work. You'll need to thoroughly research the cost of materials, new fixtures, and labor (should you hire outside help).
Worthwhile Splurges
The entire point of a renovation is to increase the overall efficiency and value of your home. For some, a renovation is simply an excuse to go all-out and lovingly craft a new room in their home. Sometimes, it's okay to splurge a little. If you have the room in your budget, consider these worthwhile additions:
Dual Sinks – Dual sinks allow both you and your partner to prepare for work, clean up, and handle your business without interrupting the other. You'll save time.
Toilet Room – A toilet room offers increased privacy to those who require the facilities without closing off the entire bathroom to everyone else.
Contact Us
For more information on bathroom renovations, contact Dutton Plumbing by visiting our website or giving us a call. We're experienced plumbing technicians who've done it all and seen it all!